Podcast Episode 5: Art Stencil Downloads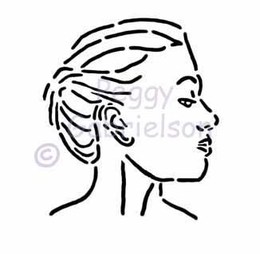 So, what are the task's I had completed from last month? Last night I finished converting my art stencils into file downloads, available on my online store. I am so excited that I figured out how to do this all by myself!
Now my customers can enjoy an immediate download of my art stencils to be used for their electronic cutting machine. The extensions for the file downloads are SVG for the Cameo and Cricut cutting machines, and FCM for the ScanNCut machine. Ain't life great!?!
What is next on my week's day planner? I will be demonstrating my art stencils in creative art projects; for those who are curious on how to use them in ways other than the normal that you might have seen elsewhere; experimenting with different substrates and a variety of art supplies.
During the Google+ hangout my project I decided to work on was a portrait of my granddaughter. It is a painting that I started using acrylic paints. I included pastels and Japanese textured paper. The paper was previously colored with inks. I used these as a collage, adding it to the background, framing her face. This is still in progress but will show a picture of it in my blog post.
I also used my pastels for an abstract self-portrait that will be mailed to Norway as my donation to the twitter art Exhibit 2015. Not really happy with it but I don't have time to change or start anew. The deadline is for them to receive it by March 1st.
Have you used soft pastels in your work?
Listen to my podcast "Ramblings of a Creative Mind!" here: